Traveling with Leclerc Baby
Take on the world and embark on exciting adventures with your little one by your side! Leclerc Baby is the ultimate partner for your journey, offering a range of strollers and accessories that blend exceptional functionality with refined design. Designed to make parenting a breeze, Leclerc Baby products are crafted to accompany you on all your outings and everyday activities. With our commitment to making parenting easier, Leclerc Baby is here to support you every step of the way. Get ready to explore the world with Leclerc Baby by your side!
Comfort and convenience
Experience the ultimate convenience with Leclerc Baby's lightweight and compact strollers, designed to fit effortlessly into car trunks or overhead compartments. Travel in style, knowing your baby will enjoy maximum comfort with an adjustable footrest, a versatile 3-position backrest, and plush seat padding. Stay organized on the go with the spacious basket and convenient additional pockets. Our multi-use strollers cater to the early stages of your child's life, offering both comfort and practicality. Let Leclerc Baby accompany you on every journey, meeting all your needs with ease.
Traveling with a newborn
At Leclerc Baby, we developed life-changing products you can use in your everyday life with your newborn baby.


Car seat adapters

Make travel easier with Leclerc Baby's Car Seat adapters, available for purchase on our website. These adapters are a game-changer when it comes to transferring your baby seamlessly from the car to the stroller. Simply visit our product description page to find compatible car seats and make your journey smoother than ever before. Don't miss out on this essential accessory for hassle-free outings with your little one. Get yours today!


Shop now

Traveling with a toddler
Leclerc Baby is your ultimate ally when traveling with a toddler, ensuring their utmost comfort and ease of use. Your baby will be equipped for any temperature.
Reasons to pick a Leclerc Baby stroller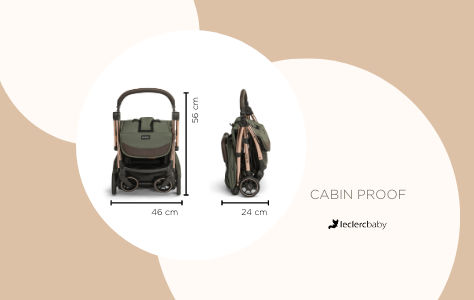 Cabin-friendly strollers
All of the Leclerc Baby strollers were designed to meet the International Air Transport Association's (IATA) dimension regulations, making them cabin-friendly. However, remember to check with your airline before travelling for confirmation, as it may differ based on the carrier's policy. If you have an Influencer XL, you could remove the wheels from the frame to make it even more compact.
Lightweight strollers
Leclerc Baby award-winning strollers are renowned for their lightweight design and effortless portability, plus there is a convenient travel bag included with every stroller. Weighing from 6.6 kg to 8.2 kg (for the Influencer XL), our strollers are easy to take and carry wherever you need to.
All-round suspensions
Leclerc Baby strollers are not only ideal for travel but also perfect for everyday adventures. Whether it's commuting to work and dropping off your child at nursery, or enjoying a Sunday stroll in the countryside, all the strollers are designed to fit seamlessly into your everyday life. With all-around suspension, they effortlessly glide on various surfaces, be it city pavements or forest trails, allowing you to escape the urban chaos for a peaceful countryside excursion.
Folding system
Experience unparalleled convenience with Leclerc Baby's one-touch folding system. Say goodbye to cumbersome folding mechanisms and embrace the freedom it brings. With a simple one-hand movement, your Leclerc Baby stroller folds effortlessly in just 1.5 seconds, allowing you to navigate any situation with ease. This system is ideal when you are on the go.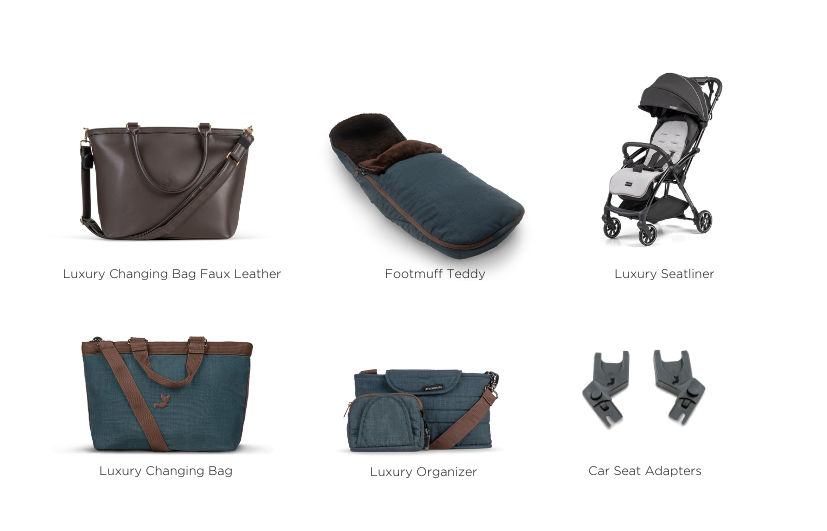 Accessories
At Leclerc Baby, we understand the importance of staying organized while traveling with your little ones. That's why we have developed a wide range of accessories designed to accompany you wherever you go. Our changing bags and organizers are the perfect companions, featuring spacious compartments and thermal pockets to keep all your essentials in order. Not only are they practical, but they also boast a refined aesthetic, ensuring you don't compromise on style. Whether you're carrying them with or without your child, our accessories serve as fashionable pieces that add a touch of versatility to your parenting journey.
Shop now