Leclerc Baby MF Plus pushchair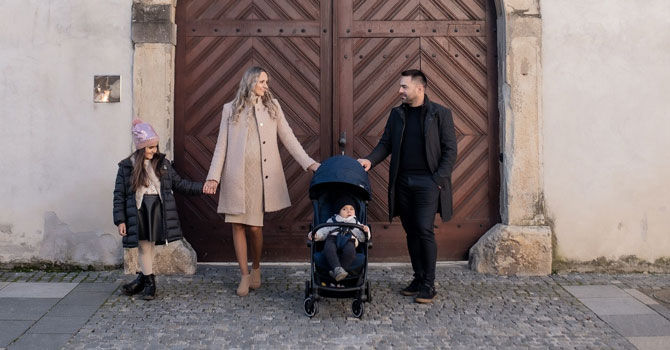 One-touch is all it takes!
Looking for the best comfort, functionality, and clean design? Our Leclerc Baby MF Plus is your go-to!
Classy colors, black frame, straightforward functionalities, and for newborn to toddler.
Matching essential pushchair accessories in all classy MF Plus colors: bassinet, organizer, diaper bag, footmuffs.
2-year warranty & 24/7 customer service.
Shop Now
Strolls easily through narrow streets with this maneuverable and easy-to-fold buggy - wij.nl
MF Plus Collection
MF Plus pushchairs benefits
One touch auto-folding pushchair system
Why would you struggle with a complex and heavy traditional pushchair? The Leclerc Baby pushchairs are super easy to use and are folded and unfolded with one hand. So you can multitask, holding your baby in one arm while getting the pushchair ready with the other.

With one touch from you, the pushchair automatically folds with the help of gravity. There are no fragile springs or air pressure used. The auto-folding mechanism is strong and durable and of course it's in our warranty.
---
Pushchairs Specifications
Weight: 6,6 kg
Max. weight seat: 22 kg
Max. weight shopping basket: 3 kg
Height unfolded: 101,5 cm
Depth unfolded: 61 cm
Width unfolded: 47 cm
Height folded: 56 cm
Depth folded: 24 cm
Width folded: 47 cm
Carton size: 455x570x260
Frame material: Aluminum powder coat
Available colors: Black, Grey, Blue, Green, and Sand
---
What's in the box?
MF Plus pushchairs including sun canopy (UPF50+)
Bumper bar
Travel bag
Accessories to customize your pushchairs

Get the most out of your pushchair with Leclerc Baby's pushchair accessories.
Shop accessories